Buzzards Bay Stormwater Collaborative: Monitoring Discharges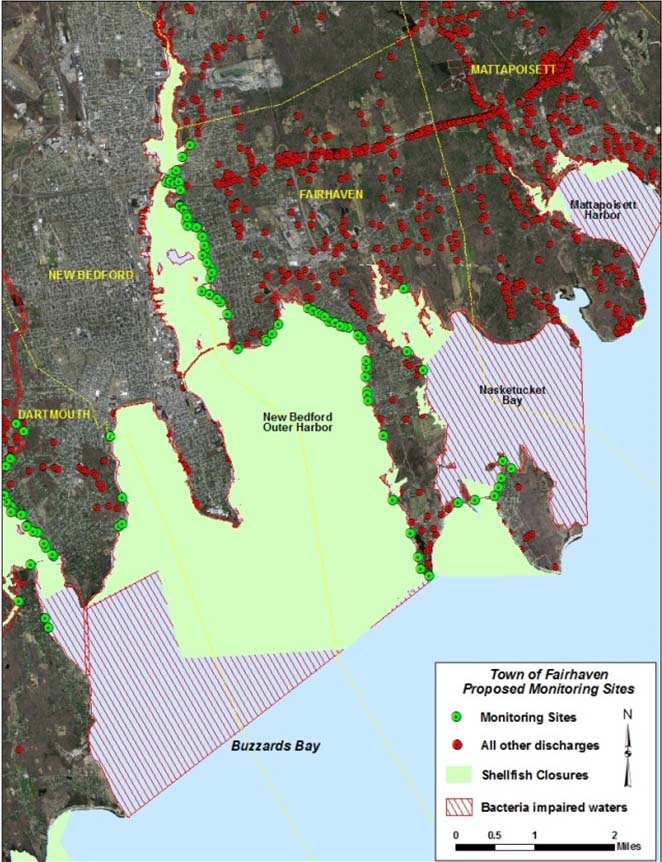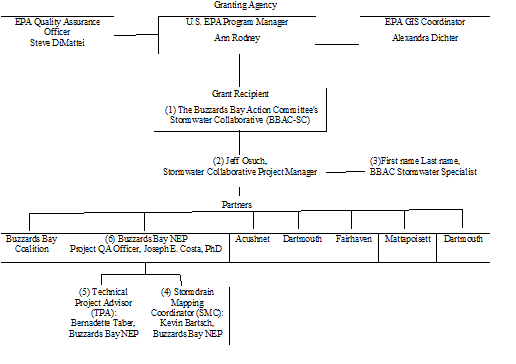 Monitoring Water Quality of Stormwater Discharges
As part of a U.S. EPA Healthy Communities grant award, the BBAC established a Stormwater Collaborative consisting of itself, plus five Buzzards Bay municipalities (Dartmouth, Fairhaven, Acushnet, Mattapoisett, and Wareham). By working together, the collaborative with assistance from the project partners (Buzzards Bay NEP and Buzzards Bay Coalition) look to combine resources in a cost-effective way to meet local goals of improving water quality and managing stormwater systems. This collaborative will work to advance previous stormwater mapping efforts by the BBAC and Buzzards Bay NEP and to monitor stormwater discharges located within nutrient- and pathogen-impaired surface waters in Buzzards Bay.
Monitoring Tasks
The initial monitoring focus of the Stormwater Collaborative is to sample stormwater networks discharging within 100 feet of either an area closed to shellfishing or other bacteria impaired waters (as defined in the Massachusetts Year 2012 Integrated List of Waters, Categories 4 and 5) within the Stormwater Collaborative municipalities (Dartmouth, Fairhaven, Acushnet, Mattapoisett, and Wareham).
Monitoring will be conducted principally between April 2016 and November 2017 (with hopes of expanding the program with future funding). It will consist of three rounds of wet weather sampling and four rounds of dry weather sampling and will include an illicit discharge detection investigation. Since several of the outfalls are located close to the oceanfront, samples will be taken during storms that coincide with low tides for each embayment. Wet weather monitoring shall be conducted during the first flush of stormwater runoff (less than 1 inch of rainfall) and must be preceded by 3 days (72 hours) without rainfall. The first set of monitoring events will consist of one dry and one wet weather sample at each discharge point. Once the analytical data from each monitoring event is received from the laboratories, the Project Manager, Project QA Officer, and TPA will discuss the results with the Stormwater Specialist and determine the location of the next monitoring location; either to remain at the discharge pipe for further analysis or proceed up the stormdrain network to narrow down potential sources of contamination. Follow-up investigations may include dry weather and/or wet weather sampling.
Quality Assurance Program Plan and Field Monitoring Guide
Details of the water quality monitoring program, and a detailed description of the methodologies used can be found in the Stormwater Collaborative's Quality Assurance Program Plan (QAPP; updated January 2018). We also updated our Stormwater Monitoring Guidelines Monitoring-Guidelines-Rev3-1Feb2018.pdf.
Helpful Videos: Stormwater Sample Collecting and Testing
Equipment Manuals