Buzzards Bay Stormwater Collaborative: Crowdsourcing Photography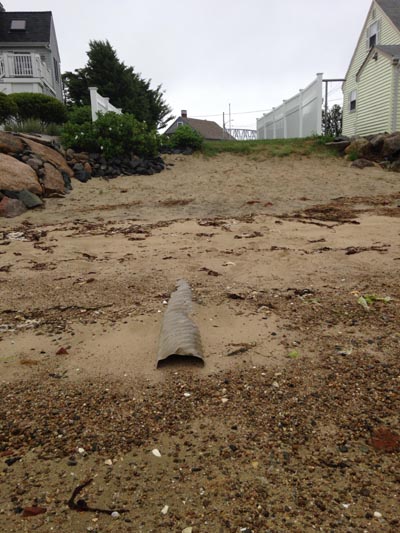 Download and print this Guide for uploading stormwater system photos on mobile devices.
We need your help
The Buzzards Bay Stormwater Collaborative, a partnership between municipalities in the Buzzards Bay watershed, the Buzzards Bay Action Committee, and the Buzzards Bay National Estuary Program has begun a program to map and monitor pollution discharged from stormwater pipes and road cuts into Buzzards Bay. At many sites, stormwater discharges are the primary cause of swimming beach and shellfish bed closures.
The public can help with this effort by submitting photographs of stormwater discharge pipes. The photographs will help us identify unmapped discharges and document the condition of discharge pipes. We want pictures of pipes -- whether or not water is flowing from them. If you see a failing catchbasin (filled with sand or blocked with debris), you can submit photos of those sites too.
Background
Since 2003, Buzzards Bay municipalities, the BBAC, and Buzzards Bay NEP have mapped more than 8,500 stormwater discharges, 40,000+ catchbasins, and many hundreds of stormwater treatment systems in the Buzzards Bay watershed, and there are thousands of others that have not been mapped. To help assess pollution discharges in the watershed, to identify which discharges can be sampled easily at low tide, and to identify problems in the stormwater collection system we need your photographs. We cannot collect these on our own, so we need your help. We especially want photographs of discharges to coastal waters, and infrastructure that is failing (for example a catchbasin filled with sand), but we will be happy with any imagery, even of all the catchbasins on your street.
To submit this information, we have created tools to make it easy to submit dozens or even hundreds of photos to our database. Below we list the ways to submit photographs and information depending upon the number of images you want to submit and the electronic devices.
Email Us
If you just have one photograph, probably the easiest thing to do is just to email us at photos@buzzardsbayaction.org. Make sure you provide a very clear description of location of the stormwater system feature (nearest street or house #), and if available, the date and time of the photograph, and any specific concerns.
Submit through stormwater.buzzardsbay.org
Whether you want to submit one photograph of hundreds of images, submit them through this website on our Interactive Map page. This page works on computers, tablets, and mobile phones. For it to work well, please share your location. (If you are on a desktop computer, because it has no GIS, your position will be incorrect and perhaps a mile or more from your real location. Just pan the map to the site for which you want to upload information.) Once the page is loaded, just click a feature on the map, and a page will load to enter information and to upload a photo. The link will open a new page to enter some basic information about the feature, and give you the opportunity to load a picture from a file or camera. You will get an email confirmation of your submission, including links to the photo and a map link to the photo. Photographs will be reviewed than added to our database for other to view online. Detailed directions and frequently asked questions and answers are in this Guide for uploading stormwater system photos on mobile devices.
Keep your mobile device's GPS turned on
When you walk or drive to a new location, click the "Refresh" button on the map to re-center the map. Depending on your mobile device and operating system, our webpage might be unable to turn on and activate your GPS which is necessary for high accuracy positioning (less than 30 feet). This is particularly true on many android devices. The work around solution is to run an app that keeps the mobile device GPS turned on (look for the GPS Icon), even when they run in the background. We found that the Android widget "driving mode" or navigation can keep the GPS on in some devices. The free Playstore app ShareGPS also solves this problem (as do other many other GPS apps.
Alternate Approach: Install Google Earth and Download One of Our Google Earth files
This procedure requires you to install Google Earth (a free mobile app) on your mobile device (this is different than the Google Maps app). There is also a link on the Google Maps app that can load Google Earth. After Google Earth is installed, download one or both of the Google Earth files below onto your mobile device (or email it to yourself or go to this page and download a file).
Try one of these Google Earth files to use with the Google Earth:
Baywide
BBDPU_all.kmz (all 8500+ near coastal Buzzards Bay stormwater discharges- pipes and road cuts; draft date: April 7, 2016)
BBCBPU_all.kmz (all 40,000+ mapped catch basins in the watershed; draft date: April 7, 2016; file is too large for phone use)
By Town
Discharges: Acushnet Bourne Carver Dartmouth Fairhaven Falmouth Marion Mattapoisett New Bedford Plymouth Wareham Westport
Catchbasins: Acushnet Bourne Carver Dartmouth Fairhaven Falmouth 1 Falmouth 2 Marion Mattapoisett New Bedford 1 New Bedford 2 New Bedford 3 Plymouth 1 Plymouth 2 Plymouth 3 Wareham Westport
After downloading a Google Earth file, make a shortcut to it on your home screen (most mobile divices have an app or widget that allows you to place a shortcut to any file on your mobile device screens). Once the file is on your home screen, whenever you click it, it will automatically open in Google Earth. When Google Earth opens, you will see a map similar to the one on our interactive map page, but with a blue dot showing your position (you might have to force on the GPS in your mobile device as described above). In the app, click the three dots to go to your location. Clicking on a mapped feature near your position will open the same upload photos and information page as on our interactive map on this site. If you have a Gmail account, you can also upload the file to Google drive, and then you can access it from any Google app.
If you are on a desktop computer or tablet, a crosshairs will appear in the center of the map, even if you shift the map. The crosshairs will not appear on the phone version of the app because Goggle has limited the features in the software on those devices. If you can shift a feature under the crosshairs, then double-click the crosshairs, you will be able to add information about the stormwater feature at that location.
Standalone Apps
Depending on how well the above approaches work, as well as program needs, we may also develop standalone apps for Android and iOS users.
If you need help with any of these procedures, contact Tracy Warncke.