Buzzards Bay Stormwater Collaborative Home Page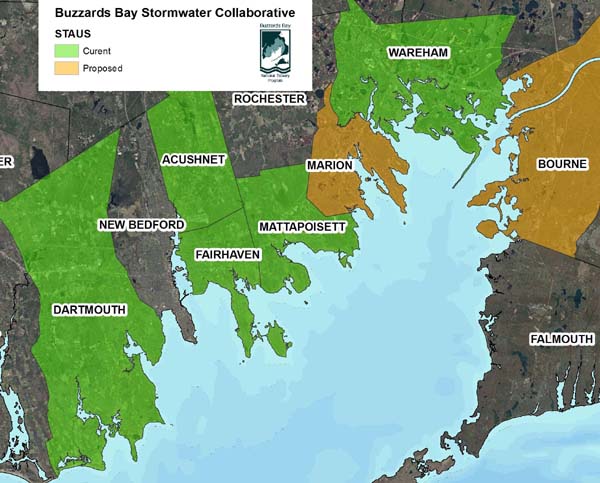 What's New
The Buzzards Bay Stormwater Collaborative was launched in April 2016, with Betsy White as the monitoring program coordinator, and Jeff Osuch as the administrative program manager. In May we began collecting data.
An essential task of the program is to identify and precisely locate all stormwater discharges along the coast and in Buzzards Bay MS4 areas. We also want to identify failing structures such as catch basins filled with sand, damaged structures, or areas that flood during storms. We especially want photographs of these features. Given that we have already mapped several thousand discharges in the Buzzards Bay watershed, and there are tens of thousands of catch basins, we can only achieve our goal with the help of the public. This is why we are seeking to fill our database with photographs through crowdsourcing. Go to our Crowdsource page to learn how you can help, or try it right now using our interactive map.
We have also added some new functionality to the website including a site directions lookup page. This feature will be handy for program participants in case you need directions on your mobile device to a specific stormwater discharge.
Past Meeting Presentation: The Buzzards Bay Stormwater Collaborative - How will it work?
This meeting, jointly sponsored by the BBAC and the NEP, was held Thursday, February 25, 2016, 10:00-11:30 at Fairhaven Town Hall to explain the technical details of the collaborative effort to map stormwater networks and monitor stormwater discharges in the Buzzards Bay watershed. The target audience was municipal officials and others involved with managing municipal separate storm sewer systems (MS4s). To see the meeting flyer, and the information presented, go to our meetings page.